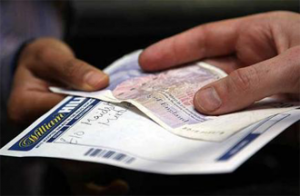 News that Prince William and Kate Middleton are expecting their second baby is only a few days old. However, it has not taken gambling websites very long to set up odds for different categories in relation to this royal baby. The bets normally center on the gender of the baby, the name given to the child, whether or not Middleton will be expecting twins and the weight of the baby when it is born. Here is a detailed look at those betting lines and odds.
The odds for whether the baby is a boy or a girl are both the same. Betting sites are offering 20/21 odds on the baby being a boy or a girl. Unless you have some inside knowledge about the baby's gender (which is highly unlikely) it would make no sense to bet on this line. The odds are unappealing and the chances of it being a boy or a girl are 50-50.
A more interesting betting line is the baby's name. Right now, there are a few names out in front with the bookies. Elizabeth, James and Victoria have been priced at 10/1. Arthur, Catherine, Charles, and Phillip are 12/1. With Charles and Phillip being names of men in the current royal family, they seem fair possibilities for a royal baby name. Elizabeth is a very popular name among British royals as well.
Further down the list are Alexandra, Alice, and William at 14/1. With Prince William being the father, that seems an unlikely choice for this royal baby. Diana, Henry and Mary are at 16/1. Diana would be a fitting name should the baby be a girl, with it being the name of Prince William's late mother. Odds of 16/1 are appealing for Diana.
Long odds are available for the names Albert, Isabella, Richard, Wilfred, Elliot, Frances and Francis. These names are less common among royals, but they are still a possibility. Andrew, Frederick and Oliver are the longest odds with bookies at 40/1.
There are odds of 20/1 on Will and Kate expecting twins from this birth. In addition, odds of 20/23 are available on the baby being either 7lbs and 10z or less, or more than 8 lbs. Similar to the gender bet, it does not make sense to place money on the baby's weight with both odds being unappealing.
For more information on this story, click here.