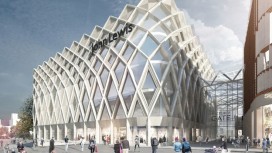 Soon, council chiefs will convene and discuss whether they which to invest a full million into projects meant to offset the poverty that Leeds currently suffers.The decision came to light back when Global Gaming Ventures Ltd bid on a new casino as a part of the Victoria Gate development Leeds had begun under the condition that the company would be able to provide a cash injection up front. Another four per cent of the revenue, or £450,000, would then be added to the pots every year after the first year that the premises had been open.
The specifics of the company's projects meant to benefit Leeds will not yet be identified until later on in the year, assuming that the executive board of the council agrees to provide the investment principle, which will be decided later.
Coun Richard Lewis, an executive member for the development project, stated that the establishment of a social project fund would provide a timely boost to the agenda designed to thwart poverty at a time when there are various funding cuts going on and there are major changes to the welfare system, all of which are creating chaotic concerns about the economic and social exclusion of those in the city of Leeds.
In addition, he states, the casino would not only provide a social inclusion fund that is greatly needed, it would also offer a boost to the economy as a whole.
Leeds already currently sees a nice boost to economy due to the thousands of visitors each year, and having a new casino at Victoria Gate would provide yet another dimension to the attractions that are already present and popular with the visitors and the locals in the city.
Says Lewis, with the GGV commit to provide more than 200 new jobs, filling about 90 per cent with residents of Leeds, the casino would also offer much-needed employment opportunities in the city.
If the request is approved, the first million would be given to anti-poverty projects in Leeds over three years.
Global Gaming Ventures seeks to turn the "supercasino" a part of the Victoria Gate development, which was until recently referred to as the Eastgate Quarters.
Currently, Leeds is just one eight places to be granted a license by the government to build a "large" casino.
Experts state that the scheme may bring over million new visitors to the city yearly and could create nearly a thousand new jobs in the city.